Ever tried emailing a Keynote presentation? Uploading it? FTP? The progress counter just stays there, counting, but nothing ever gets uploaded.
The problem lies within Apple's .key file format. Keynote files are actually folders (or Packages, as Apple likes to call them) containing all the different files used in the presentation.
Right-click on any Keynote file and you'll see "Show Package Contents" as a menu option:
Selecting "Show Package Contents" will open a new Finder window with all the files used in your presentation: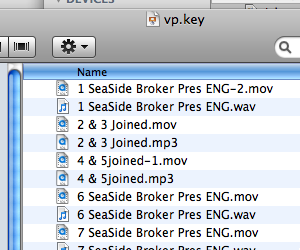 Keynote (.key) files behave the same way Application (.app) files do. Go to your Applications folder and try right-clicking on one of your apps: you'll see the "Show Package Contents" option.
In order to be able to send someone a Keynote file, you first need to compress the file into a .zip archive and then send this compressed file. The recipient simply needs to uncompress the file to retrieve the original Keynote file and all its contents.
To compress a file simply right-click on the file and select the "Compress filename" option:
That's it.
Remember, to send (e-mail, upload, ftp, etc) a Keynote presentation, simply compress it to a .zip file and send the compressed version. If the recipient does not need to edit the presentation, you can always export to PDF (or any of the other export options).
Got any productivity tips? Drop us a note using the comments form.
Technorati Tags:
apple, mac, osx, leopard, keynote, productivity