In just one day, Twitter proved its worth as a viable news source while at the same time demonstrating how easy it is to spread false information.
While Twitter makes the spread of information quick and painless (when Twitter itself isn't acting up) it also makes the spread of false news that much easier as well. Louis Gray reports how today, the long debunked myth of the Subway guy's death, resurfaced on Twitter via some highly connected folk like Kevin Rose of Digg and Adam Ostorow of Mashable. Read Louis' highly informative post, "Smart People, Stupid Tweets. Fake News Spreads Fast on Twitter", for more information.
I've posted before about the large number of news organizations using Twitter for breaking news, but Louis describes the problem perfectly:
"The combination of a rush to publish and a low barrier to entry for microblogging makes posting quick notes to Twitter extremely tempting for people who are trying to break news."
In the process, fact-checking seems to get thrown out the window, much the same way gossip spreads. The problem isn't so much those who post false news, but -as is also the case with gossip- those who repeat it (and often embellish it) without checking out the facts.
On the other hand, Twitter -and even more so, Summize and ESPN's website- proved vital for anyone trying to follow the EURO 2008 semifinal game between Germany and Turkey. A storm knocked out the International Broadcast Center in Vienna, leaving anyone watching the game around the world staring at a blank screen.
I jumped on Twitter for more information, but Twhirl quickly informed me that I had "exceeded" my tweet limit -even though I haven't been on Twitter all day. It seemed "information blackout" was the note of the day.
Summize, however, saved the day by aggregating relevant commentary from all over the world.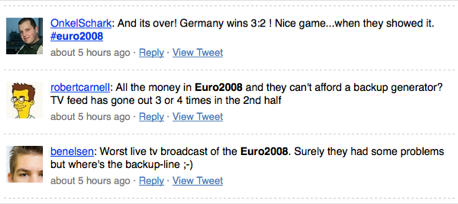 ESPN's own Live Commentary from their online GameCast provided just enough information to "see" what we were missing. It seems that ESPN reporters had access to the radio broadcast of the game and were able to fill us in with the details.
Just another day on the information super highway.
Technorati Tags:
breaking-news, information-overload, news, twitter, EURO2008, disinformation