Today I received my autographed copy of "The World according to Twitter" (TWA2T) by David Pogue and a couple thousand of his Twitter friends. In the tradition of tech geeks everywhere, behold: the unboxing of TWA2T!
Here we go:
1. The original package with a dog logo. I had NO IDEA what this was.
2. Anticipating it could be Pogue's book, I quickly ripped into it: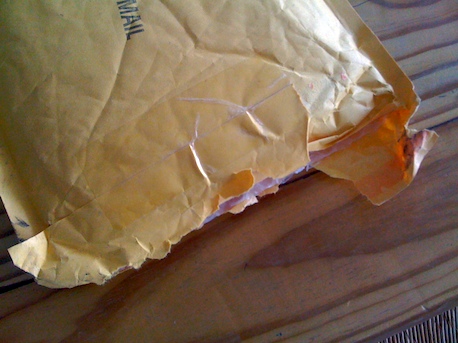 3. YES! My own copy of The World according to Twitter: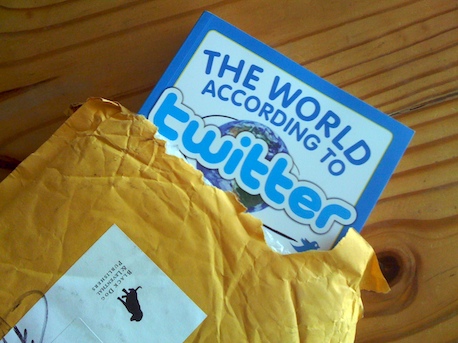 4. Here it is, in it's full glory: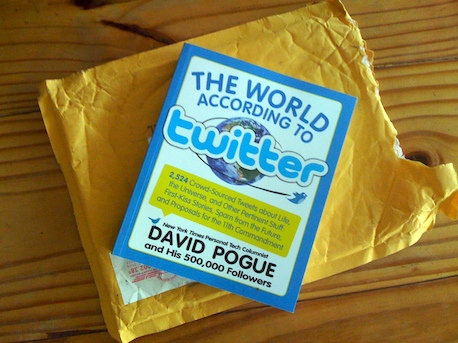 5. I jumped to the first page, to find the book autographed to me – that's my Twitter name there, @cgranier: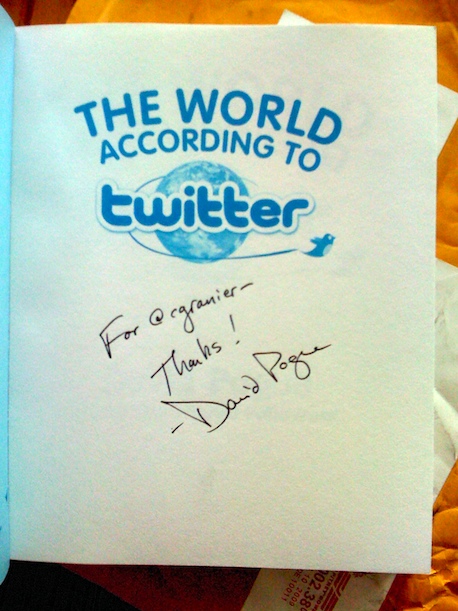 6. The index shows every contributor, cross-linked to the page(s) where their tweets ended up. In the end, three of my tweets made it into the book, on pages 98 and 181: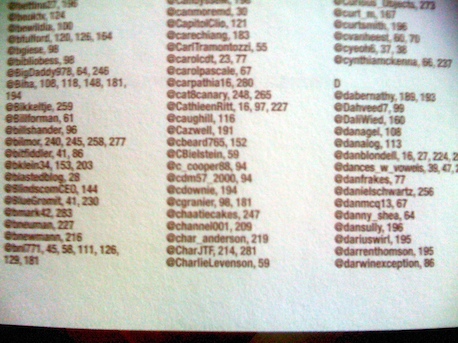 7. Here's one of them:
What's your brilliant idea to improve the modern automobile:

Car's paint color should change (Ã  la mood ring) to indicate temper of driver. –@cgranier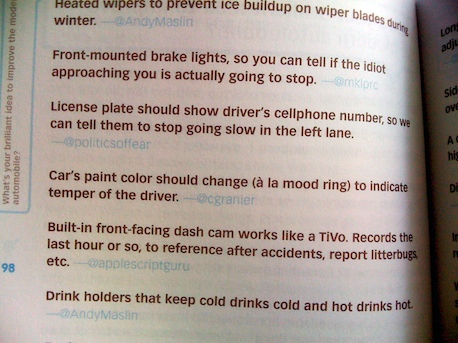 8. And the other two:
Rewrite a famous quotation in the style of the half-wits who leave comments on YouTube.

2 B R NOT 2B, DAT IZ DE ? –@cgranier

Dewd, like I don care where u go, but 4 me, I haz liberty or kill me. FTW! –@cgranier
I spent the better part of the evening reading through the book and couldn't stop laughing. It's simply hilarious (well, at least the other 2,521 tweets). The wit and creativity of its contributors had me in side-splitting laughter from the beginning. Get a copy or two. I'll even sign it if you want 😉
UPDATE: Here's a short video David Pogue made, documenting the book signing:
Pogue's Twitter-Book Signing Day from david pogue on Vimeo.
David Pogue attempts to sign 1500 books in one day.
UPDATE: Here's an excerpt from the book… 28 free pages:
The World According to Twitter
If you're in the book, leave me a message with your username so I can look up your funny tweets. And please feel free to share this post with all your Twitter friends. I've made it really easy: just click the retweet badge located at the top and bottom of this post, or just click here.
Thanks!