I've been compiling data about CBS videos on YouTube for the past week. Here are some charts with the Top 15 videos from the CBS channel on YouTube. I began gathering data on November 21st and have charted the week from Nov. 22nd to Nov.28th (inclusive).
On to the charts!
The CBS|YouTube Top 15 Videos by Net Daily Viewers
The CBS|YouTube Top 15 Videos by Average Daily Viewers
(total views for each video divided by the number of days since the video was uploaded)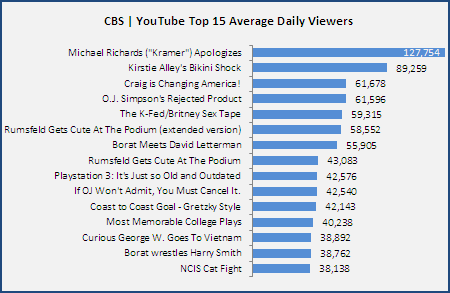 The CBS|YouTube Weekly Top 15
(most viewers during the week)
The CBS|YouTube Video of the Week Award
By now, it should be obvious that Kramer's apology was the most popular video on the CBS|YouTube channel this past week.
Here's a graph showing the evolution of total viewers and the daily viewers during the past week. I've included Nov. 21st on the chart since that was the day the video was uploaded. That way you can see the complete evolution of an Internet hit.
One Final Note Regarding Last Week's Article
On last week's article, I noted a difference between CBS's Top-15 list for Nov.17 and my own list for Nov.21 (please refer to the article for details) and wondered whether CBS had somehow doctored their list to make it more marketable. Having looked at one week's worth of data I feel there is no evidence of foul play. Kramer's video hit 800,000 views just three days after being posted, and the average daily views indicate the growth predicted in the article would have been not only possible but quite normal.
If you have any requests for particular channels to track or a specific chart you want to see, please leave me a comment and I'll do my best to accommodate your request.
Technorati Tags: Content Delivery Networks, Data Analysis, Patterns, Ratings, Television, Visualization, Web Video, YouTube